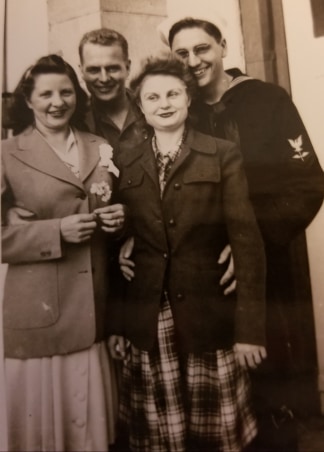 Two nice Norwegian Lutheran girls, born and raised on a hog farm in northwestern Iowa, went west to Los Angeles in 1941 and struck it rich, if you count two good and true husbands and lives that mattered to all who knew them.
At least I think it was 1941, because it must have been just after the declaration of war with Japan. I think they both got jobs – at least my mother did – in the offices of The Lockheed Aircraft Corporation. That's where Ellen met Ted, my dad. Thelma's beau Elmer, as you can see, was in the Navy.
Could this be my mother's wedding day? Hence the corsages? My sister, Joan, might know. They were married April 11th, 1942. You can see a ring on her finger. She's the pretty brunette on the left. There is no ring as yet on Thelma's left hand – she's the perky blonde on the right – but there soon will be. I think my cousin Steven is near my age, and I was born the following February. Events moved fast in those days.
Thelma and Elmer settled on the West Coast when he returned from the War. My dad joined the Army Air Corps and was sent to Paris, while my mother went home to Iowa with little me. When Dad came home from the War, we stayed in the Midwest. I always regretted not knowing my Aunt Thelma better. Check out the look on her face. She was fun-loving, mischievous. She had four children, two boys and two girls, all of whom adored her. My own mother was loving, but religious. She had six children, but later on none of us could figure out when or how. There were no stolen kisses in the kitchen, that we recall. No slap and tickle. No flirtation between our parents at all, that we could discover. And when we learned the facts of life, we had trouble relating them to our very proper parents. The few times we visited with Thelma and Elmer, though I can't recall anything specific, I remember thinking that they loved each other very much
There is another reason I wish I had had more time with Aunt Thelma. I could have pumped her for information about my mom. I did ask mom about Thelma, and there is only one story I remember.
Sometimes, when my grandmother took her two girls to town shopping, she and my mother were always clean and neat and well-behaved, but continually embarrassed by Thelma who was prone to getting dirty by putting gum on the end of a stick and searching the storm drains for pennies. I had to wonder why I had never thought of that. All I did was wander off by myself, something my mother referred to as "getting lost."
Elmer was killed in a plane crash. He loved to fly, and often took his boys with him on short flights around Portland, where they had settled after many years in California. I don't remember why the boys didn't go with him that day, but they did not, and so Thelma lost the love of her life but was spared losing more than that.
Both of my parents died within a short time of each other, being in a nursing home with various degrees of dementia. Thelma went long before them.
I wish I had known Thelma when she was young and happy-go-lucky. Even more, though, do I wish I had known my mother, who said goodbye to the farm and headed west on an adventure. Never again would she launch herself away from all she had known before and set out to seek her fortune. I sometimes wonder if she settled on a future a little too soon.